Dr. Nikolaos Mavridis was invited to talk about the transition from interactive robots to collective human-machine intelligence.
Dr Mavridis is founder and director of Interactive Robots and Media Lab, Ass. Professor of Research, NYU and researcher at NCSR Demokritos.
Dr. Mavridis was invited by the Lab of Special Engineering of Democritus University of Thrace in collaboration with Athena Research Center, the IEEE Student Branch of Thrace, the Lab of Measurement Systems of TEI of Kavala and Prisma Electronics SA.
The event was a great success with many participants (both students and faculty/researchers). Dr. Mavridis presented the state-of-the-art research on interactive robots and shared his insights and his vision of a transition from the era of interactive robots to and era of collective human-machine intelligence. He used simple and intuitive examples to present both the current trend and his future vision. The presentation concluded with a round table session where an interesting exchange of ideas took place between the participants.
Below is the banner of the event and here is the invitation (in Greek).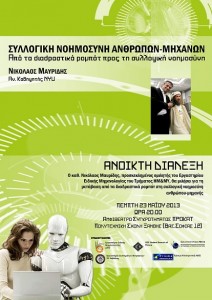 A photo gallery of the event: